Pricing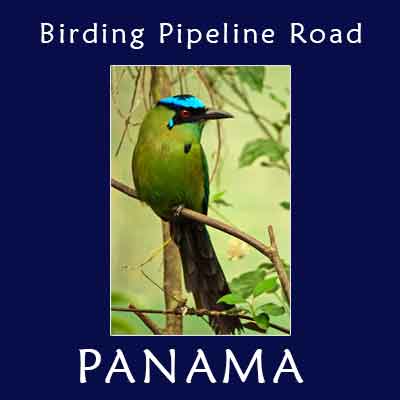 Pricing for Day Trips: Half day is for 4-hours, not including pick-up time: 1 person $180, 2 people $230, 3 people $270, 4 people $360, for 5 to 10 people $75 per person. This is for 4 - 6 hours depending on pick up location. For 8 hours, which is a full day, add an additional $70 to the price. These are not private birding trips; they are open to up to 10 people. If there are other people on the tour, there will be a discounted price for you, but we cannot guarantee others will join on any specific day. For private tours, contact us for pricing. Private tours are usually 25% more.
There is no charge for pickup or drop-off anywhere in "regular" parts of the Panama City or the Gamboa area. There may be a charge for pickup and/or drop-off in other outlying areas.
Not included for Day Trips: Entrance fees to parks and reserves are not included. For locations that charge a fee, these prices will vary in price from $5 - $22 per person per location. Food is not included. Please bring your own water, snacks, and lunch.
Possible locations and choices for day trips: Metropolitan Park, Ancon Hill, Amador Causeway, Pipeline Road, Ammo Ponds, Panama Rainforest Discovery Center, Plantation Road, Summit Zoo, Summit Ponds, and Old Gamboa Road. Some of these locations charge an entrance fee and some do not.
Cerro Azul is close to Panama City and is an excellent location for viewing mountain birds. It is about a 45-minute drive east of Panama City and located at 2,600 feet, (800m) elevation. There is a $21.40 per person entrance fee.
Night Tours: We offer 2-hours of looking for owls and nightjars in the Gamboa area. The price is $50 per person, with a minimum of 4-people. It is recommended that you bring a high-powered flashlight or headlamp. We will supply a spot lamp.
Family Trips: We have great trips for families with children and we offer half price for children 14 years old and younger.
Always bring: Plenty of water, snacks, umbrella and/or rain gear, sunscreen, bug spray, and backpack for your gear.
Payment Policy:
1) Day trips are generally cash only, with a few exceptions.
2) If you are booking a scheduled multi-day group tour, that is posted on our website, there is a $600 non-refundable deposit due at the time of booking and the final payment is due 4-months prior to the start of the trip.
3) If you are booking a custom and private, multi-day tour, the payment policy will depend on the specific tour.
We accept Visa, MasterCard, American Express, Western Union, and Cash.